WINKY WRIGHT
"Believe me, when he miss, he gonna get a hard one back"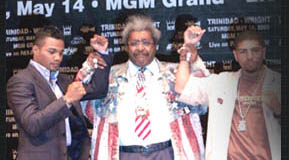 While more buildings were coming down than a special FX movie, and there were sinkholes the size of Niagara Falls in the worst deluge to drown L.A. in over 100 years, Don King brought his medicine show to the Century Plaza Hotel on February 10 to beat the drum for the May 14 HBO Pay-Per-View middleweight 12-rounder between Felix "Tito" Trinidad and Winky Wright at the MGM Grand Gardens Arena in Las Vegas.
The Century Plaza is glass and marble, and it costs as much to park as a ringside seat at the old Garden.
With the aid of GPS, I navigated the subterranean maze to the meeting room -- half expecting to run into Hitler and Eva Braun. DKP roadies had dressed the space for the occasion: a large black cloth with white letters shouted Trinidad vs. Wright at the back wall, extending the length of the table in front for the fighters and their teams on a raised dais. A lectern in the middle was the DMZ for the opposing camps.
There was a smattering of press that braved the weather, nibbling at the buffet table and schmoosing for an hour. It was interrupted by the rustle of chairs and bodies that usually signaled a bar fight, but in this case, a media frenzy around Winky Wright.
Wright was answering the same questions he'd been asked every day on this press tour from Puerto Rico, to New York to L.A, and onto Vegas, the next stop. He was as enthusiastic as being at an in-laws wedding.
Tito was in a knot of media on the other side of the room, and questions were being interpreted for him. It was curious seeing his face round to a smile in recognition of someone's attempt at a joke. The reporters took their cue and laughed along the way middle management does when the boss lights up.
Trinidad fielded one hardball query after another: Did he like baseball? ... Did he eat a lot of ice cream while he was away for two years?
He looked a little puffy in the face, and admitted to 170. His hair was styled in short spikes -- very different from his Grace Jones look cutting a swath through the welterweights.
Then, like paparazzi scattering at a Madonna sighting, the swarm headed for a rumbling laugh. The electric locks of Don King were unmistakable above reporters with out-stretched mics looking like beggars asking for a handout. Flashbulbs lit-King-up from every angle. His smile, permanent as the Joker's. His Jessie Jackson rhyme scheme had no breaths, and he pressed the flesh and made eye contact with everybody in the huddle.
It was reminiscent of Santa greeting children in a department store. He did everything but boom, "HO! HO! HO!"
"Hey, Jimmy, what's happenin?' King greeted Jim Grey, former NFL defensive back and now sports anchor on CBS-TV, announcing proudly, "He gives distinguishment to this promotion."
Every one of King's Trinidad answers was preceded by a flourish of the Puerto Rican flag as broad as semaphoring a jet on a carrier, and the clarion call, VIVA PUERTO RICO! VIVA PUERTO RICO! With as much emphasis on correct inflection to satisfy the most demanding Latino.
He leaned-in benignly for a photo-op with a slight Asian man, who was giddy at the encounter, nodding endlessly, "Thank you", "Thank you", as he backed away. It was as if he had an audience with the Pope.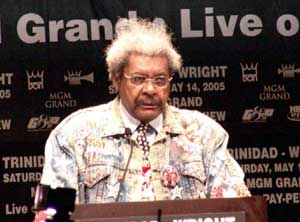 King, with his ubiquitous, hand-painted denim jacket with more reflective surfaces than a disco ball and two Super Bowl-sized rings on his left hand with more ice than a champagne bucket, one doesn't expect anything weightier than, "50 Beautiful Girl! 50!" Big mistake.
In the middle of his scatter-gun non sequesters and references to Bob Arum as "Lonesome Bob," his genius for figures, PPV, distribution, grosses, nets, house records, and generating future events, makes it clear why he's so formidable. "They don't give a black man credit for having any common sense... only perverted sense," he remarks.
Dismiss him as a clown; he'll have you for lunch. If there's anything fake about him it's that he's 25 masquerading as a septuagenarian.
Wright, after the two highest-profile victories of his career against Shane Mosley, must relate to Rodney Dangerfield's: "I get no respect!" He sat impassively at the dais when all the press raced to Trinidad on the other side. Had it been a ferry, it would have tipped over.
This was the third leg of the promotional tour in three days and thousands of miles, and all involved were having difficulty keeping the act fresh. Like political candidates mouthing the same stump speech, Winky and Tito said everything to convince all of the mayhem they would visit on each other - show "no mercy!"
But these are elite prizefighters, not hucksters. Their degrees are in pain, not marketing. They do their best work in the ring. There was nothing visceral. No ears bitten...babies threatened.
"People always tell me, Wright said, "How you gonna come an fight when you don't dislike nobody. You don't talk trash. I dislike Vargas some the way he runs his mouth. It ain't about talkin' trash. If it was about talkin' trash, whoever talked the best trash would be the champion. It's about throwing punches...knowing how to fight. I won't let my mouth do the talkin'; I let my hands do the talkin'.
"Tito's a great fighter. He got a good punch, but I'll be movin' up so I'll get some strength, too. I'm not standing there to test how hard he hits. I ain't out here to show people if I can take a punch...Be stupid to be knocked out for nothing. I'm gonna dip and dart. Believe me, when he miss, he gonna get a hard one back. I'm not no big puncher, but I'm gonna throw a lot of punches to hurt you."
King and Gary Shaw, Wright's manager/promoter, did their lounge act of deriding each other and saying what their fighter is going to do to the other. Shaw, grey-haired, with a passing resemblance for Shecky Green, is direct, spare with his words, and impresses as an efficient CEO, with a solid board of directors at his elbow on the dais.
King's opening Salvo was: "He (Shaw) set fire to the press conference in New York. We take no prisoners in the City of Angeles. My side is prepared for war. After we get through knocking out Winky, there will be a coming together - and he's the adversarial promoter. The camaraderie and conviviality will be second to none."
"I'll let Gary Shaw have his speech before I go into the soliloquy of victory."
Shaw, still seated, shot back: "Your guy is going down! On the 15th, they'll know Wright was wrong - wrong choice to pick. King cut in, "If fighting you is wrong, then we don't want to be Wright.
Shaw pushed on, "Winky's not a golf ball and Tito's not going to be teeing off on him."
"If it was about knockouts, they'd call it knockouts. This is called boxing." Shaw paused. He asked King why he wasn't heckling.
"I'm pouring gasoline on you right now, baby!" King beamed, waving his Puerto Rican flag.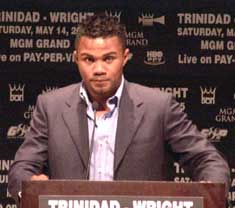 Shaw reached into a paper bag in front of him, turning to Trinidad, "Tito, I want to present this to you to practice catching." It was a catcher's mitt.
Tito accepted with a big grin, saying to Wright while they posed for pictures, "You're going to have to teach me how to catch punches."
Shaw concluded, "Don gets a lot of bad press. In all my years of dealing with him when I was COO at Main Events, Don has always kept his word with me...and he's my adversary. Thanks for the opportunity. We'll give you the opportunity back."
The difference between Shaw and King is light years.
Shaw's solid and buttoned-up, a perfect style match-up with Wright. King's the scene-stealer. He wasn't a barker; he was P.T Barnum. He managed to trumpet the fight, fitting Cyrano de Bergerac, Judy Garland and General Santa Ana in the same sentence. He made hyperbole an art form. You couldn't make him up; no one would buy it.
Both of these fighters, with 94 bouts and 60 knockouts between them -- are to be applauded for taking on such a dangerous opponent. Trinidad can knock your brains out, and Wright can school you and make you look foolish.
Hopkins was able to nullify Trinidad's power; and brave as he was, Tito didn't adapt and was pounded down. Wright, though not as hard a hitter, is equally frustrating and an opportunist. One lapse and he rains punches. He's an offensive counter puncher, forcing errors with double and triple jabs.
"Make'em fight; stay on their guard at all times. It's draining for'em," is how Wright puts it.
Wright's technically sound - old school -- as well, always keeps his hands high and tight, and blessed with a solid chin.
So, can Trinidad cut off and batter down the southpaw's defense, or can Wright outmaneuver and outland Tito?
"It's gonna be a chess game ... a helluva fight," Wright adds. If people think Tito's just gonna run in there and knock me out, they got another think coming."
Winky's Mr. Cellophane. Even when he's fighting and two stories high on the Jumbotron, nobody will know who's in there with Trinidad. He's fated to be a trivia question in 20 years, like President Polk or Jimmy McLarnin.
The only recognition he'll get is from the boxers and trainers who'll nudge each other, "Did you see that? He's a "fighter's fighter." Taking somebody out of his game doesn't make a highlight reel or earn clothing contracts; it wins fights.
If you like the Sweet Science, you'll get your money's worth on May 14. It may not be for a title, but this is championship boxing. Shaw is right: Wright is wrong for Tito. He wins a hotly contested unanimous decision.