Soliman Steals the Show; Johnson Scores TKO in 8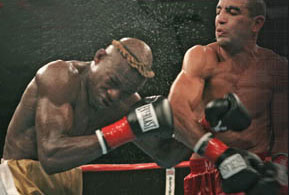 There was a double header at the Pechanga Resort & Casino on July 18 -- not baseball, boxing.

Kirk Johnson, after his woeful showing against Vitali klitschko in his heavyweight eliminator last December was trying to get his career back on track and met Gilbert "Killer" Martinez in one 10, and the co-feature 12 was a revenge match and IBF middleweight eliminator between Sam "King" Soliman and Raymond "Hallelujah" Joval for the right to face the winner of the De La Hoya- Hopkins go on September 18.

Joelle Jaynes, with a Marine Corps color guard behind her, sang The Star-Spangled Banner acappella, for the first time in recent memory the way Francis Scott Key wrote it, to a rousing cheer from the 1500 attending.

Kirk Johnson (34-2-1/ 26 KO's) from North Preston, Nova Scotia, was announced by Jimmy Lennon at 242, 18 pounds trimmer than when he got TKO'd by Klitschko in the 2nd round seven months earlier. There was less of him, but it still shook like Kobe wearing Shaq's jersey, as he loosened up. His opponent was Gilbert Martinez, 232, from Sacramento, Ca. (18-7-2/ 7 KO's), who had a caricature of a pug's nose, and must have adopted the same training regime as "Two-Ton" Tony Galento.

Johnson danced clockwise at the opening bell, bounding left and right, probing and feinting more than throwing; and Martinez, a southpaw, dipped left and right, calculating how to bridge the distance. Johnson did reach Martinez with a snaking right and follow-up left, but his aggression was tentative, as if his confidence was still a question mark.

Martinez's sweeping left uppercut-hooks looked like Sylvester Stallone's in Rocky 1. And just like the Rocky character, Martinez gestured to Johnson after eating a sharp right in the 2nd, "Is that all you got?" And threw his arms up in disdain: "Bring it!"

Martinez bent his body to the left, trying to sucker Johnson into over-extending with his right so he could land with what looked like the only punch in his arsenal, a left uppercut-hook from as far back as he could cock it. Johnson moved from the outside, gliding left and right, leaning in repeatedly, like he was hitting the heavy bag with two-three sharp jabs. He was scoring but not intimidating.

At the opening of the 3rd, Martinez stormed Johnson like a linebacker blitzing a QB. He wanted a street brawl. Johnson moved off the ropes and caught Martinez with hooks and rights that had water spraying off his head to emphasis the impact. Johnson picked up the pace. His jabs weren't range finders; they were punishers. He looked like he was poking Martinez with a long, sharp stick. When Johnson moved away from Martinez after a flurry in the corner, there was blood over Martinez's right eye.

Johnson's foot feints froze Martinez enough for him to further damage the eye with his jab, at the bell.

Between rounds, with a short time before his own match, Sam Soliman, with a big grin -- still in jeans and a T-shirt -- lopped through the crowd like the Pied Piper, shaking hands, greeting friends, teasing kids, looking every inch "the smiling face of Australian boxing."

In the fourth round, for those who didn't know how Martinez got his nose that way, Johnson made it abundantly clear with his left jab, and continued to pepper Martinez's eye. Martinez was all huff and puff and I'm going to blow your house down. But he couldn't deliver on his body language.

To add insult to injury, in the 5th, Martinez had a point deducted by referee Dr. James Jen-Kin for hitting Johnson in the back. Not a moment later, Martinez was warned again. Johnson moved away and stung Martinez with a right uppercut and three jabs. Martinez reached Johnson with a left, but he rode with it as he was moving away.

The gash above Martinez's eye widened. He looked like a battlefield casualty. Martinez tried to bend and weave as low as he could but offered no real offense, so Johnson pinpointed with harder jabs and straight rights. After a left hook, Martinez's cut was smashed open several layers deep. On the advice of the doctor between rounds, it was stopped and ruled a TKO for Johnson at the end of 8.

Martinez may have had flesh in folds over his trunks, but he wasn't content to pick up a paycheck; he challenged Johnson. He had the spirit but not the tools and too much mileage to last.

The result in the record book will look more impressive than Johnson's performance. Johnson has to show more "eye of the tiger" for TV people to want him. It's not winning that matters; it's how.

To his credit, if Johnson did break his hand in the second round, he never gave evidence of it - not so much as a wince, and continued to throw the right with conviction, though not as often as the opportunities his jab created.

After the bout, Johnson posed in the ring for pictures with a beaming James Toney, who looked fully recovered from his Achilles surgery in January. Joining Toney at ringside were Diego Corrales, Robbie Peden and Chevelle Hallback.

Judging from the whistling and screaming for Sam Soliman (27-7/ 9 KO's) before his return with Raymond Joval of the Netherlands, most of Melbourne, Au. must have been in the crowd.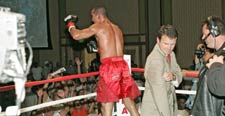 The two middleweights were a study in contrast waiting to be introduced: Joval, a tri-colored crown woven as tightly from his hair as barbed wire, decorated his bald dome, (Soliman's corner strenuously objected to before the fight, saying it could cause a cut) His face suggested a spring coiling tighter. He was as stolid as a monument.
Soliman bounced playfully in his corner, smiling and waving to his fans. He looked like he needed to be tethered. With every wave, his cheering section of women screamed "Samy" louder. Shades of Elvis Presley.
The tone of the fight was set in the first round: Joval, (32-3/ 14 KO's) with the rounded muscles of Marvin Hagler, hunched over, hands high and tight, plodded forward to close the gap and land short combinations. Soliman was quicker handed, looser, spontaneous, and appeared to flail rather than punch. He left his head straight up after firing, an inviting target. But he turned out to be a con.
Soliman's head was rarely there to be hit; it was just bait. And the few punches he took didn't faze him. He wasn't referred to in OZ as the "chin of granite," for no reason. He'd never been stopped in 34 fights. Though Soliman's punches weren't compact, and didn't look like they had bad intentions, both his fists had homing devices; they always found Joval's face and body flush.
Initially, though Soliman reacted with knee-jerk quickness, his swings, though accurate, looked aimless and without power. He landed uppercuts and flurries with Joval against the ropes. Soliman earned points, but his blows didn't look damaging enough to discourage Joval for long.
The 2nd stanza was a replay: Joval trying to hunt Soliman down, and the Aussie painting Joval with right uppercuts and shoeshines, and always with his head up, as if admiring his work.
Joval increased the pressure in the 3rd and tried to force exchanges. Women in the crowd, screamed, "S-A-M-Y! S-A-M-Y!" Soliman moved around the pocket clock wise, hands at his sides, his head forward as a lure, and answered every lead with a right uppercut, and slid off. Soliman darted to a hyper beat and Joval couldn't get a rhythm.
Soliman kept backing off, tempting and punishing him.
With a smack heard across the arena in the 4th, Soliman caught Joval near the ropes with a right uppercut, and down he went, backwards. He struggled to his feet at six, dazed, and the ref completed the mandatory 8. It was the first realization that Soliman's punches carried more zip than they appeared.
While the ref counted over Joval, Soliman, euphoric, leaped high in the air and did two spinning back kicks. This was Roberto Benigne with boxing gloves. When Joval resumed, Soliman set down on his punches and tried to finish him, but the Dutchman was resolute and lasted the round.
After every round, Soliman grinned and wanted to touch gloves with Joval on the way back to his corner. It brought new meaning to: "Take that and like it." Joval wanted none of it.
In the sixth, it was beginning to look like Soliman was doing special affects; every punch he threw, Joval was at the end of it. Now the showman in the former kick-boxer came out. Soliman moved with his arms dangling down, jiggling his body, taunting the one-dimensional Joval. Whenever Joval got close enough, Soliman parted his tightly held gloves with an inside uppercut.
To the continued ear splitting, "Samy! Samy! Samy," Soliman kept beating Joval to the punch in the 7th, reducing it to a sparring session; not a revenge match with the number-two-rated IBF middleweight who'd gotten a unanimous nod over him in 1991.
Even though Soliman was making an impressive showing on Fox TV, his trainer Dave Hedgecock and manager, Stuart Duncan -- judging by the looks on their faces, were not happy seeing Soliman clowning in the seventh: He shook his arms like spaghetti and drooped his body listlessly, sending a buzz through the crowd, thinking he'd run out of steam. Whenever Joval tried to jump on him, he was met by the right uppercut, and it continued that way through the 9th.
As the 9th closed, Soliman rained unanswered punches on Joval in the corner. It was his strongest show of sustained offense since he'd knocked Joval down earlier. The referee stood close, studying Joval. Between rounds, the doctor checked him.
Soliman changed his attack from the tenth through 12th; he started to throw more right hands, and lead body punches - really thumping them home. After an inside uppercut in the 11th from Soliman - that the ref didn't see - Joval lost his balance and rolled backwards like a tumbler across the ring. The ref ruled it no knockdown. For the remainder of the round, Soliman's corner men rolled their eyes as he did "the drunken sailor walk " - defying gravity -- trying to get the gun-shy Joval to lead.
Joval's right eye was nicked in the 12th, and both men tried to finish strong in the center of the ring, head to head. Soliman wind-milled accurate head punches inside. Joval went through the motions, but looked totally drained and demoralized.
The judges had it 119-108, 120-107, 120-107, all for Soliman. Fightworld.us had it 120-107 for Soliman.
Every good comic had to have a good straight man. Joval was his. As one Aussie described Soliman: "He's not a big banger but he could hit you on the soles of the feet while you're skipping."
When I asked Joval, while his swollen lip was being tended to in the dressing room, "Did that big uppercut hurt you?"
"Which one?" he said.