Mora Edges Quinones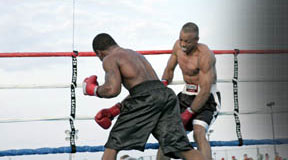 Like oil and water, Steve Quinones and Adrian Mora's styles don't mix.

It made for a long 10-round, TV main event on SHOBOX: THE NEW GENERATION at the Palace Indian Gaming Center in Lemoore, California, on July 1, promoted by Goosen Tutor Promotions.

Mora's tall as a tree - and throws about as many punches. Quinones is busy, experienced, (28-7-1/9 KO's) left handed, and was usually a zip code away trying to reach Mora's head with launched lefts.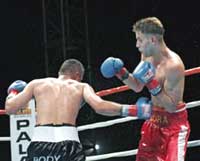 Quinones tried to find ways in- attacking from every direction. Mora moved minimally to his left, standing very tall, trying to time the constantly moving Quinones, who must have had flashbacks of being stopped by this Diego Corrales-sized lightweight.
Each round seemed a replay of the previous one: Quinones hustling, and largely falling short, but doubling or tripling Mora's output; and Mora (11-0-0/7 KO's) patiently looking for an opening, unflustered by Quinones' flurries, but punching very little. He looked like he didn't want to make a mistake against a man with three times as many fights and the former NABF Lightweight Champ.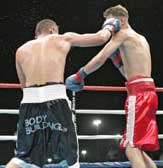 Mora's style was of a one-puncher finisher; and though several of his straight rights landed flush and buckled Quinones' knees and had him holding on for an instant, they didn't have the Bob Foster-expected impact.
But, either Mora hit harder than appeared, or he was doing something subtle that nullified Quinones' every effort. Quinones had already bested Lovemore N'dou and Juan Valenzuela.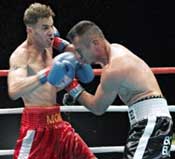 Quinones was in excellent shape after a 14-month layoff, battling every minute of every round. The judges didn't think he landed effectively enough and awarded a majority decision to Mora. But it came down to preference: industry or execution, and the scores reflected that. Dave Nelson had it 96-94, Mora. Ralph McKnight: 96-94, Mora, and Abe Belardo: 96-92 Quinones. Fightworld had it 96-94, Quinones

Armenta UD's Garcia
Some boxing scribe wrote, "I love to watch two good boys move around." And that was what the semi-wind-up eight-rounder between middleweights George Armenta, Silver Springs, Maryland and Irving Garcia, Vaga Baja, Puerto Rico was all about.
Armenta, 156, (11-3/ 10 KO's) looked like a larger framed fighter coming down in weight, and Garcia, 154 1/2, (9-1-0/5 KO's) shorter and more defined, but not as thick in the chest and shoulders, looked a welter in comparison.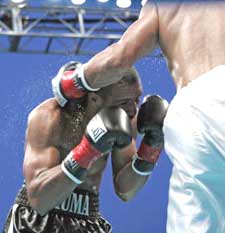 From the first bell, both fighters moved like professionals - showed poise, hands high, straight, tight punches, looking to take advantage of mistakes - a chess match with pain.
Both were well-schooled and punched in combinations that were crisp and part of an arsenal, not just reflexes and adrenaline, randomly trying to overwhelm an opponent.
Armenta had good balance and threw a heavy right hand. Garcia looked a tad faster handed, but no single punch looked like a finisher. His game was accuracy and making Armenta pay. Though Garcia had only 11 pro fights, the experience of over 60 amateur bouts was evident in his technique.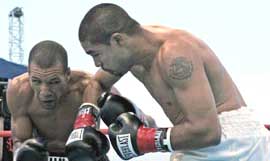 As both fighters tried to feel each other out and assert dominance in the early rounds, Armenta moved in the pocket and tried to find Garcia with his heavier right.
The exchanges heated up in the third - neither wanting to give an inch. Several times, they butted heads. Referee Dan Stell cautioned both.
A low left from Armenta, while the two punished each other downstairs in the fourth, had Garcia slowly sink to his knees, stretching his arms on the canvas and pounding it. It cost Armenta one point.
Armenta got the point back in the fifth when he battered Garcia through the ropes for an eight count. Each continued to attack and counter attack, mixing up their combinations. Punches strayed low and heads collided as they dug in.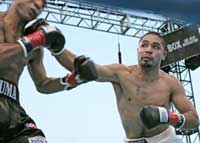 In the sixth, Armenta changed tactics: Instead of pressing forward, the hunter, he boxed at long range, using more of the ring, moving left and right - sharp-shooting. His work-rate dropped; he was using his legs more. Armenta made the strongest impression in the round with a solid right and left at the bell. But they weren't as concussive as in the earlier rounds.
Armenta continued to circle and dart in and out in the seventh, appearing to save himself for a final effort in the last round. Garcia made more contact with his second and third punches, but less effectively since Armenta was moving away.
Both fighters picked up the pace in the final round, with more give than take on Armenta's part.
All three judges had it for Armenta, 76-74 - as did Fightworld - but both fighters showed mettle, skill, conditioning and promise.
Off TV
Bailey Annihilates Mondejar
Frank Mondejar's record is perfect. Every one of his fights at the Palace ended in a first-round KO. But this time, it was he who had to be revived.
There was great expectation for Mondejar, 156 (5-1-0/5 KO's), a tall local middleweight from Fresno, California who was escorted by five of team-Mondejar - all wearing shinny red smocks -- through smoke, colored lights and blaring salsa music to the ring. Mondejar got a rousing welcome as he raised his arm to acknowledge the fans.
There was a growing buzz in the crowd ... an excitement waiting to explode when Mondejar made Robert "No Bail" Bailey his next first-round KO victim in the scheduled six.
Bailey, 30, (5-3-0/3 KO's) from Flint, Michigan, who last fought 15 months ago as a welterweight and was stopped in the first round, trotted to the ring with an old robe, a T-shirt, and a rag-tag group of handlers that looked like it had been assembled at the last minute. A pencil-thin second, shouting like "Boudini" Brown on speed, pumped his fist, "Repo Man Gym! "Repo Man Gym!" as he cleared Bailey's way.
Bailey, fit the description: "opponent." He was smooth, with no muscle tone and, charitably, looked out of shape, with a jiggle of flesh at his waistband.
The only question was: How many seconds would this joke last?
They came out at the bell; Mondejar -- towering over the roly-poly Bailey -- was a very straight-up, southpaw boxer-puncher with a wide stance. He moved counter-clockwise, looking ready to pull the trigger on a straight left, while a bobbing, weaving Bailey - also a southpaw -- made motions to get closer, but didn't close the gap.
Bailey lessened the possibility of his being a factor and heightened his comic presence, when he almost depants'd himself twice trying to adjust an uncomfortable cup
Mondejar continued to move stealthily and threateningly around ring, measuring Bailey with jabs, and Bailey bobbing predictably from side to side. We waited for Mondejar to lower the boom.
Suddenly, Bailey struck out with a left in an exchange along the ropes and froze Mondejar, who wobbled for an instant and tried to gather himself and slide away.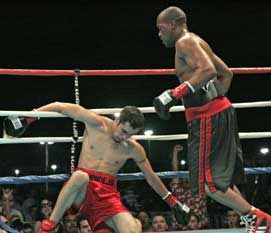 But the supposed token fighter turned into a real one - with a killer instinct; and he jumped all over Mondejar with furious combinations, while the still groggy Mondejar tried to fight his way out of it. But Bailey lit him up again with the same straight left, and Mondejar sagged unconscious to the canvas, propped up by the bottom two strands of the ropes.
Referee Dave Nelson signaled it over at 2:59 of round one.
The stoppage was so quick, while music played to fill the time before the next bout, a jubilant Bailey danced with Amy Hayes at center ring after she announced the time of the TKO. She couldn't coax the referee to join her.
While the men in the crowd cheered and whistled their appreciation for Hayes's toned-down bump and grind, the girls closest to the ring turned to each other and whispered critiques of her figure.
Alatorre shuts out Cruz
Hector Alatorre, 139 1/2 (3-0/1 KO) added to his win list in this four at the expense of Rudy Cruz, 146, (2-14-3/1KO), who's not unfamiliar with L's on his record and could offer no more than indignation at every clean punch he was hit with, which was almost every one Alatorre threw. Altatorre was as flashy as his silver sequined trunks, and too quick of hand and foot and too well trained to make it competitive. But if he's to step up, he's going to have to set down on his punches and earn respect as well as points.
Johnson out works Neal
David Johnson, 235, (with conflicting records: 1-8-2 with five KO losses on Boxrec and 10-37-4 on the Goossen Tudor sheet) looked like he'd lost a great deal of weight and had a lot of loose flesh. He outworked and out punched Eddie Neal, 240, (2-0-0/2KO's) who didn't look as heavy and certainly not as strong Johnson.
From the opening bell, as Johnson plodded forward, Neal back-pedaled with only one hope: to catch Johnson with a desperation right hand as he came in. But he never connected.
Johnson consistently thumped Neal to the body without return or any attempt to protect himself against the ropes. Johnson looked like he was doing an endurance drill on the heavy bag.
As both fighters tired, between wrestling, a judo throw and a blatantly intentional low blow by Neal after he thought he'd been fouled, Johnson deserved the four-round UD in this mauling match.
Harmon SD's Innis
If looks could kill, William "Little Tyson" Harmon, 166, (4-3-0/4 KO's) would have done away with Darryl Innis, 166 (0-2-0) as referee Jon Shorle gave instructions.
Harmon flexed his bowling-ball muscles to look as intimidating as possible and got in Innis's face, glaring and talking smack.
But Harmon's menace far exceeded his mayhem. He couldn't get close enough in the opening round to make good on his threats. Innis danced clock-wise, with his body to the side, spearing Harmon with double jabs and occasional rights and moving away. Harmon leaped at Innis repeatedly, but couldn't reach him with his wide-swinging left hooks ... and he couldn't find a rhythm.
Harmon's only answer was to increase the pressure and duck walk and bob and weave as close to canvas as his short legs would allow. Innis gradually wore down and got tossed around whenever there was a test of strength. But Harmon could never get home with anything like what his Tyson nickname implied.
Innis did more holding than jabbing as the fight went on, but he landed enough clean punches to this reporter to earn his first victory.
Harmon seemed to agree at the final bell, as he walked to his corner shaking his head, as if resigned to the verdict. The two of the three judges went for his roughhousing and aggressiveness and gave him the nod.
***
The fights ran late and photographer Jan Sanders and myself had to get back to Los Angeles and missed the eight-round lightweight fight between Jessica Rakoczy and Olivia Pereira
***
P.S.
Aside from Bailey's electrifying knockout, the one-standout moment of the evening was during a break between bouts. Soul music blasted the fairground setting -- maybe 50 yards from the casino -- and the almost-3000 farm-area people seemed to be getting into the spirit.
When I glanced around the ring, I spotted SHOBOX's expert fight analyst, the studious Steve Farhood, groov'n to the beat in his chair, as he scanned his notes ... It was worth driving three and half hours to see him mouthing the words, "PLAY THAT FUNKY MUSIC WHITE BOY!"
***