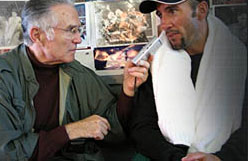 It's a contradiction: Wayne McCullough and veteran in the same sentence. This is a small boy who's run off to the circus, having the time of his life. It may say 34 on his birth certificate but a 10-year-old would be hard-pressed to keep up with him.

12 years of punching people professionally, and being punched back, and McCullough still approaches the task with all the enthusiasm of being first at a U2 concert. Freddie Roach doesn't train him; he winds him up.

My dad used to say, "You want something done, give it to a busy man." McCullough is like the street performer blurring to keep all the plates spinning in the air. Golf is his favorite pastime -- hard to imagine him waiting to putt. He fights, he writes, he commentates, he lives the Satchel Paige credo: "Never slow down somethin' may be gainin' on ya." And he does it with the pulse-rate of a world-class marathoner

So on Thursday, February 10, in a tented ring adjacent to The Palace Indian Gaming Center plunked down on a corn field in Lemoore, California, he'll bound into a ring through smoke and fireworks for the 348th time -- amateur and pro - rockin' to U2 and the cheers of clan-McCullough -- raucous enough to be heard back in Belfast, while FOX's Best Damn Sports Show Period, on a raised stage, amps up the crowd of 1500.

It ain't old school...but it's a helluva show.

McCullough will be there for probably his third and last try at a world title -- to wrest the WBC Super Bantamweight crown from Oscar "Chololo" Larios (54-3-1), with the same craving a chocoholic has for layer cake.

When you've sampled Prince Hamed's best -- and didn't crumble; Erik Morales at the top of his game -- twice; fought and licked most everybody in their own backyard, Larios, with his string of 15-straight wins, nine title defenses, and 35 KO's, doesn't send tremors though him. He's a ticket back to the top.

McCullough personifies the "happy warrior," with the accent on warrior. He brings it, with Compu-Box numbers that burnout the circuits. Think Kassim Ouma.

Usually a rat-tat-tat style doesn't go hand-and-glove with a solid constitution. It means: Avoid in-coming at all cost! Not with McCullough. He shakes off anvils like so many gnats. Fight him and you better pack your lunch. If you're not in shape, he'll run you over and leave tire tracks.

His strategy isn't to break an opponent's hands on his head. When bombs do get through his cross-guard bob-and-weave -- and the smoke clears -- he's still in front of his man, grinning, "That the best you got?"

Even though "Pocket Rocket" is now part of his legal name, "Wayne the Wolverine" might be more appropriate. Once he gets his teeth in, he doesn't let go. He keeps putting leather wherever there's skin. You don't have to knock down a building with a wrecking ball; a machine gun does plenty of damage.

Larios also likes to mix it up - is a free-swinger, but his punch-stats, though busy, aren't McCullough triple digits, and he jockey's more to counter. He should have ample opportunity over 12 rounds with McCullough on his chest, in what figures to be a fan's treat and worth driving the 200 miles from L.A.

On paper it looks like a sure W for Larios: he's six years younger, McCullough's been inactive, comes off injuries, his best days are behind him...and his name will look good on his record.

But like Max Schmeling said before the first Joe Louis fight, "I see something..." and it may be Larios' Achilles Heel.

In Larios' successful defense against Australian Nadel Hussein, he was dinged repeatedly by single power shots, but Hussein hung back, didn't press his advantage or let his hands go. Whenever the ref broke them, Hussein danced back a few steps -- almost clear across the ring before starting in again. Larios took the play away and earned the nod. But he revealed a chink in his armor -- especially against a fighter like McCullough.

He's a different breed of cat.

He's barely restrained by a ref coming out of a clinch; he takes only ONE step back or to the side and charges in.

McCullough doesn't have one-punch power but water can wear down a stone - plus, there's the intangible: all that in-your-face pressure drains a man's will. Like Harry Truman said, "If you can't stand the heat, get out of the kitchen."

As McCullough puts it, "I may take a couple shots but I'm gonna hit you more than you hit me!"

His MO has always been to put the pedal to the metal and floor it. He has no plan B. So, it may come down to who blinks first.