Marquez vs Pacquiao: This had to be illegal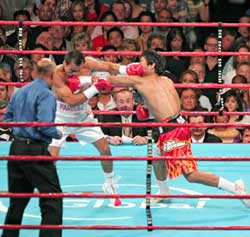 In an instant everything a fight fan lives for was happening - magnificent doesn't begin to cover it.

A near-capacity crowd at the MGM Grand Arena in Las Vegas was one roar rocking the building, threatening to shake loose the paint from the walls. Manny Pacquiao, in little more than a minute into the first round had dropped Juan Manuel Marquez with a left that most of the crowd and Marquez didn't see.

Two more times Marquez hit the canvas from the same left - no one could believe their eyes -- leaving Mexico's most finely-schooled fighter shocked, hurt and steamrolled the way Barrera had been the year before.

There was so much tension in the air, on the first knockdown; I leaped to my feet before I knew it -- papers, coffee cups flying in all directions in the press section. Jaded beat reporters as wide-eyed and yelling as loudly as fans -- all thoughts of note-taking forgotten. The shouting in my ears was mine. I hollered myself hoarse against a decibel level that threatened to blow out the walls.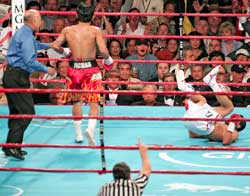 Juan Manuel Marquez was down a third time, looking like Jack Johnson shielding his eyes from the sun against Jess Willard in Havana. Marquez was dead - out! There was no way he would rise. But, like the Phoenix...he was on his feet by eight. We would go home early... but hardly disappointed, and with a memory that would last a lifetime - we saw it live! Everything that Pacquio showed in sparring leading up to this moment wasn't exaggerated. Mexican fans were as stunned as Marquez.
Pacquiao struck like a mongoose, with numbing power. He would now be the hottest star in the sport -- Murad Muhammad's crowning jewel. This beaming cherub, in two short years, has done more for the Philippines than all the ad dollars in their treasury. If he finished the demolition in round two, his welcome in Manila would Krakatoa a blip on seismographs.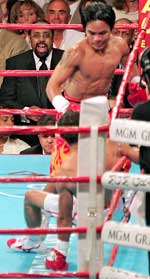 I hadn't seen euphoria like this since VJ Day on Times Square. It was America seeing Joe Louis knock Max Schmeling out in the return. The deafening sound in the MGM was the equal of the 60,000 at Yankee Stadium that night.
Murad had delivered what he promised, an exciting fight and an exciting fighter in Pacquiao, who may be the world's answer to an energy crisis. The huge Filipino contingent was ecstatic. Nobody was left with a voice or his hearing after round one.
Marquez made his way back to his corner -- his nose pulp and bleeding, his eyes glazed. Nacho Beristain and his team did battlefield-triage in the one-minute rest. At the bell, with Beristain's aid and calm, Marquez rose like Lazarus to face sure devastation and loss of his place among Mexico's legends.
Referee Joe Cortez had to be very alert. Marquez could be too brave for his own good. The din was indescribable and hadn't diminished in the rest period. This had to be illegal; anything this much of a high had to be addictive.
Mexican fans were in shock. Marquez was in shock...and pain. Everybody was delirious.
Marquez was on stiff legs, his nose a red smear; he looked like he'd been mugged, but his hands were up the way Beristain had drilled him since he was 12-years-old. Not a hint of lost confidence or poise.
Pacquiao was loosed from his corner for round two by Roach to finish the job.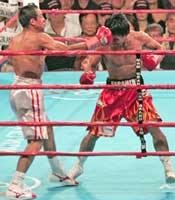 But Marquez, by instinct, fended Pacquiao off with a right held high, moving clockwise warily around the ring, keeping his defense solid, trying to gather himself.
Amazingly, his technique and resolve kept him upright under Pac's furious attempts to get home with that left again. Marquez not only remained conscious but, impossibly, with ring generalship and strategic jabs, earned the round on this card. The corpse was coming to life.
Round after round it continued: Packman almost leaping in, foot-feinting, attacking, and pressing -- a force field preceding him. But, slowly, Marquez was no longer fighting a delaying action. All the short-circuited synapses and muscle connections were firing up and he was boxing the way the handicappers had expected -- why no other featherweight or manager wanted any part of him. The only thing he was missing was a suit of lights and the accompanying "Ole's!" from the crowd as he avoided Pacquiao's bull rushes and placed banderoles of his own.
Marquez had skill, balance, punching power, and he was mixing up his combinations. He not only had the tools but what every great fighter must have: character and Corazon.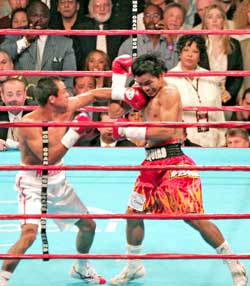 The sleek and aquiline Marquez (with delicate hands) who stood on the scale at the weigh-in - almost a greyhound in profile - now looked more Yory "Boy" Campos than concert pianist. He was Tony Zale with finesse. He didn't just slog on, he ate Manny's punches when he had to, but now he wasn't passive-aggressive.
His counters carried heft, and he was getting full extension on his punches, like the solar plexus blow that took the soul from Robbie Peden.
But the threat of Pacquiao's left was always in the air, like the dread of an intruder in the middle of the night.
Marquez was a thoroughbred, a credit to his country and to his sport... But, he did strike low many times -- once in the tropics, without a single warning from Cortez. But to this observer, it didn't appear intentional, like a Hopkins' street intimidator. Which is little consolation when you're hit there.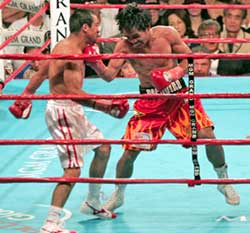 Manny bounced and bobbed and herky-jerked, left and right, trying to find a way in to this riddle that taunted and stabbed him and refused to fall.
Even though Pac seemed to land several lefts with the same impact that started all the trouble, Marquez didn't wobble and continued to circle and counter with more prolific combinations. By the fifth round, he had Pacquiao's right eye cut.
Pacquiao is wired to go forward. So, though his reflexes were quick enough to pull his head away from Marquez's lead right hands, the second and third ones found him, diffused of power; but Pac leaned so far back, he had to struggle to keep his balance and re-group, which didn't look good to the judges.
By round eight, Marquez wasn't staving off the inevitable; he was winning the fight. Mexicans all stood a lot taller seeing their man come from the grave and make this movie-drama come to life.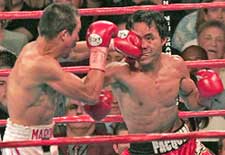 Pacquiao's face was reddening and beginning to swell-- his right eye, cut and bleeding. So, there they were: A battle of the titans, heavyweights in featherweight bodies. No hyperbole would do justice to this battle of wills. Pacquiao had wreaked havoc on his first sortie, but Marquez, like Germany after world war two, came back from the ashes stronger than ever.
Usually there are ebbs and flows in crowd noise. In this one, the needle was at the limit. It was at the top of the meter even between rounds, and when there was a spike in the action, it went off the charts.
Marquez was the consummate boxer-puncher. He was conducting a clinic for all but a few rounds. To fight at this level, and to keep his composure after everything in his brain must have been scuttled speaks to Marquez's high-altitude training, Beristain guidance and what it means to be an Aztec warrior.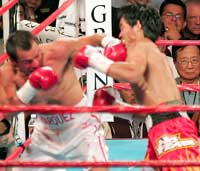 What Pacquiao lacked in fundamentals, he made up for in intensity. He didn't have the arsenal; he had the equalizer - 126-pound Earnie Shavers. Pac's prayer was a left hand. And every heart was stopped waiting for him to do it again. Mexicans in fear; Filipinos in hope. One lapse in Marquez's concentration and the first round would be re-visited. And, Marquez had to do that after surviving a train wreck.
There was no need at the final bell for Michael Buffer to say, "let's hear it for these two warriors!" Over the ear-shattering sound you could make out the overlapping drum of "Marquez! Marquez! Pacquiao! Pacquiao!" We held our breath while the cards were tallied. Nations waited to rejoice, and fighters and their camps to hear what months of sacrifice and pain-beyond-endurance had earned them.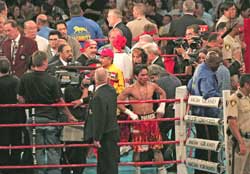 A raucous cheer went up from the Pacquiao side when judge John Stewart's 115-110 was read for him. Joy...and relief, came from the Marquez side when Guy Jutras' 115-110 was read for him. From the brink of annihilation, Marquez had a real chance.
There was stunned silence when Burt Clements' 113-113 draw was announced. No boos, or thrown beer bottles, just total deflation for the fighters, their camps and the crowd. It just wouldn't sink in. All the explosions ended with a whimper. It wasn't unjust... just unthinkable.
But there was no riot, and volatile ethnic rivalries have combusted over less. Even the most partial had to have grudging respect for the other side. There was trash talking on both sides by the soccer-hooligan element leading up to the match, but Pacquiao and Marquez remained above it.
On this card, Pac won it by a shade, 114-113. The 10-6 round made the difference. It was hard to erase the vision of Marquez laying in ruin in the wake of Pac's first-round attack, in spite of Marquez's miraculous recovery, flawless skills and drawing-board tactics.