Mendoza's purse held up; corner men
suspended for using illegal stimulant
It seemed like something right out of a 1940's fight film. The only thing missing was James Cagney or Humphrey Bogart -- corner men using an illegal substance to revive a fighter on the verge of a knockout in a championship fight. But, it happened in the bucolic environs of the Bren Center at UC Irvine on Oscar De La Hoya's "Boxeo De Ore" on HBO Latino.
Local favorite Labrado Andrade won a unanimous decision, knocking down Panamanian Tito "El Misil" Mendoza three times, annexing the North American Boxing Organization 168-pound belt. At the conclusion of the bout, referee Lou Moret snatched a white hand-cloth from a Mendoza corner man after judge Marty Denkin told him he was a "100 percent sure" a stimulant was on the cloth. He'd seen Mendoza's head jerk back when the corner man applied it to his face between rounds.
Moret noticed a pink stain on it. He brought the cloth to ring physician Dr. Pearlman Hicks, who confirmed it was ammonia. The Chief Inspector for the California State Athletic Commission, Dean Lohuis, impounded the cloth and an ammonia capsule, and promptly suspended both trainers and held up Mendoza's purse. (It has since been determined that Mendoza was an "unwitting participant" and he has been paid)
Mark Reels, the Executive Director of the NABO confirmed it. He said there would be a full investigation. The handlers will appear before the commission at the end of July to determine their fate.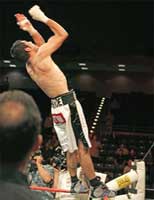 While Andrade was euphoric after the decision, leaping into the arms of his handlers, doing a perfectly executed back flip; a far different scene was playing out in Mendoza's dressing room: A red-faced official shouted at Mendoza and his chief second: "Would you do that if it was your son?" over and over again -- louder each time. Mendoza: a still life -- slumped on a metal folding chair, legs splayed, dripping sweat, shaking his head. His corner man, head bowed, wordless under the berating.
I chalked it up to a squabble in a losing dressing room - absent of the facts.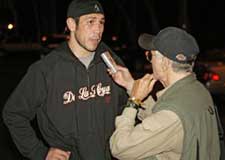 Later in the parking lot, I spoke to Andrade. He said he knew something "odd happened." He didn't understand it; "...it had to do with an illegal way of reviving him (Mendoza) between rounds, because I knew I had him hurt badly...I don't know what they did, but they got suspended. They went through all this pain just to give up a big check. I fought my hardest and I just tried to do my best."
The sordid back-story shouldn't detract from the hard-fought, decisive victory Andrade earned, his 19th without a loss, with 13 KO's.
Andrade, from nearby La Habra, got the biggest hand of the evening when he entered the ring. At the opening bell, both men came to center ring; the ends of their arms the distance between them. Mendoza was the taller and accentuated by how low Andrade was bending and the uprightness of Mendoza's posture. They moved slowly around each other, looking for any flicker of weakness, an opening, trying to establish themselves.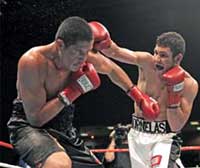 Andrade's jabs were short and tentative, more like sonar searching for the enemy. He was bending at the waist, with his head forward, like a man peering into a dark cave, ready to pull back at the first hint of danger. Mendoza's jabs were like those of a far-sighted carpenter who's thrown out a ruler to full extension and had to pull his head back to read the numbers.
Andrade got home with a solid right as Mendoza came off the ropes, head high, and he hit the canvas heavily. He made it to his feet, and Andrade continued to bludgeon him for the remainder of the round, trying to reach him with that same right hand.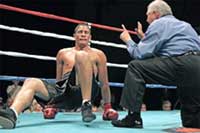 In the second, they dueled with probing left jabs, and Andrade downed Mendoza again with a sweeping left hook. When Mendoza got to his feet after an eight-count, almost imperceptibly, his body language changed. He wasn't looking to carve out turf, but avoid those bombs and perhaps sneak home a right hand as the fight progressed.
Andrade tried to show his versatility in the third, throwing long straight rights to the body, and intentionally moving his head closer to lure punches he could counter over. Mendoza drew back from the pocket and increased the distance between them, using more of the ring -- moving right and left - trying to keep Andrade off balance. All Andrade's movement seemed to be from the waist up.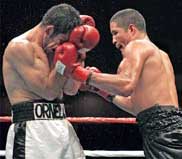 From this larger battlefield, Mendoza had some success hooking off a jab and sliding off to the right - even landing jabs that he turned into uppercuts. But the move looked like a traffic accident about to happen. Mendoza was squared up when he did it, standing as tall as a Marine in boot camp. Before the round ended, Andrade started to pick up the pace, trying to cut off the ring.
Mendoza was effective in the fifth with left hooks and sliding off to the right; always within a millimeter of Andrade's sweeping left-hook counters -- like a bullfighter getting too close to the horns.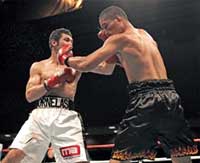 Andrade anticipated Mendoza's movements in the sixth and stood like a roadblock, forcing him to exchange, and threw harder and more telling punches, almost finishing him at the bell.
Mendoza was being beaten up and his reserves were dwindling, but he was resilient and using every veteran trick he'd learned in 36 fights to survive and land a "Hail Mary."
Mendoza counter attacked in the seventh and eighth with sharp, accurate lefts and rights. Nothing threatened to turn the tide, but they did earn Mendoza points and buy him some time. But, he had little left when he returned to his corner.
Mendoza's legs could no longer carry him out of danger in the ninth, and he was being slugged and overwhelmed, and started listing toward the canvas; when a prayer was answered: referee Moret jumped in and motioned for both fighters to go to neutral corners. The padding on the ring post in Mendoza's corner had suddenly come loose. Mendoza was spared execution for a half minute while it was repaired and the crowd booed.
"I think they did that on purpose, Andrade said later. "This guy was out."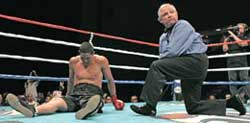 After a series of punches in the tenth, Mendoza went down again, as much from exhaustion as the blows. On unsteady legs for the remainder of the fight, Mendoza called on pride, resolve and what turned out to be an illegal substance to remain on his feet for the final bell.
Judges Chuck Hassett, Marty Denkin and Raul Caiz Jr. had it for Andrade 117-108, 117-108 and 117-107. Fightworld had it 117-108.
Andrade's punching power makes the difference. What he does isn't eye-catching, but when the object is to hurt someone and knock them down, he's able to do that. He's a rough work in progress. If he's not overmatched and continues to show the same work ethic, some contender is going to find himself looking up at the lights.
Valle TKO's Hernandez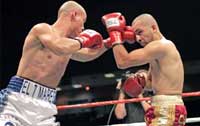 In the opening 10-round bout, Adan Hernandez's right eye became freakishly swollen and shut after an uppercut by Ivan "Relampago" Valle, 131 1/2 (20-6-1/17 KO's), and referee Dr. James Jen Kin, on advice of the doctor, stopped the fight at 1:23 of the first round.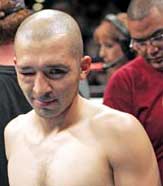 In the brief time they were in there, Valle, Los Mochis, Mexico, showed a very orthodox, standup-boxer style, advancing behind a busy jab. Hernandez, 131 1/2, had good balance in the pocket and the kind of left hook -- that he'd doubled to the body -- that made me certain he was a converted southpaw. (Which he confirmed after the match on the way to his dressing room) " It was a secret. How'd you know?"
Hernandez's record will read: TKO'd in one, but he's a lot better fighter than that. The eye damage was just "one of those things," and he should be back. He didn't take a pounding. He drops to 13-3/ 4 KO's
Beltran UD's Cassiani
Pepe Riley, the former stylish, hard-hitting welter who now manages Ramundo Beltran, 131, (13-2/ 7 KO's) said it all outside the dressing room as I was about to interview Beltran after his eight-round unanimous decision over Rocky Cassiani, 132 1/2 (21-16-2/ 15 KO's): "Unless somebody is in there, they can never know what it's like to take the pressure."
Looking into Riley's eyes - that spoke volumes - I knew he did.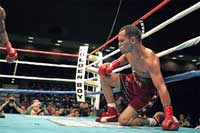 Beltran is a quick-handed, sharp-punching boxer - very comfortable in the ring -- with good balance and generalship. He got careless in the second round and was hit with a left hook as he bounced off the ropes - intensifying the impact. He was shaken but recovered. And the rest of the fight settled into the same scenario: Cassiani marching forward, bobbing and weaving, trying to cut off Beltran.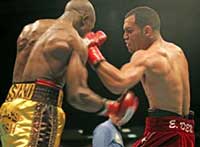 Beltran never lost his poise after the knockdown, and Cassiani never gave him a moment to breath. He kept pressing and trying to windmill up close Beltrans' punches were sharp and straight, but he never got off the quick, multiple-punch combinations he showed at the gym.
Judges Lou Moret and Marty Denkin had it for Beltran, 76-74 - as did this reporter - and Raul Caiz Jr. had it 77-73.
Rubalcava out-punches Lovato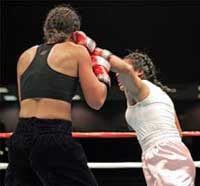 I only caught the last two rounds of this four, because of interviewing Beltran. It was the mostly closely contested fight of the night. Both female fighters wanted to attack and mix it up.
Monica Lovato, (1-0) from Alburquerque, New Mexico, all in black, was barely contained aggression, as if her trainer had to rein her in from spending herself too early. She was well taught, and advanced - with hands held high and tight -- behind double and triple jabs to get home with a practiced straight right.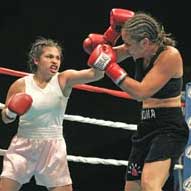 Julie Rubalcava, (1-0) from Westminster, Cal., was much shorter, but the natural fighter -- not nearly so disciplined as Lovato but more relaxed and quicker. She had crowd appeal. She looked like somebody on a street corner that threw punches to end an argument.
Rubalcava gave up a lot of size, and she took punches but she answered back with three or four accurate ones of her own. It was discipline and condition against fast hands and attitude. Neither fighter backed off until the final bell. While they waited for the decision, Lovato's body language seemed to say she knew she hadn't done enough.
Harutyunyan shuts out Aguilar
In what would normally be the walkout bout, Kahren Harutyunyan, 120 1/2 (10-1-3) put on such an accomplished display of boxing and versatility, nobody in the small crowd left their seats.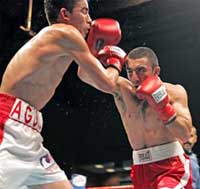 Triple - and sometimes more -- accurate jabs, drawing leads and countering to the head and body, using the whole ring, moving in an out, left and right; Harutyunyan simply outclassed Romel Aguilar, 122 (3-1-1/ 2 KO's). Harutyunyan put on a clinic, and the crowd appreciated it. They applauded every fusillade, like he was a magician doing slight of hand.
Some where's in Harutyunyan's contract it must stipulate that his opponent can't come in under six-feet. It seems all of his opponents are auditioning for the NBA.
Aguilar was game and absorbed some brutal punches but still plodded forward and landed some right hands as Harutyunyan was moving away or covering up on the ropes.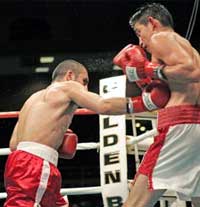 Several times, Harutyunyan's drumfire combinations to the body looked like they might end the fight. They were certainly sapping Aguilar's strength, but the Mexican was dogged.
The difference was speed and all Harutyunyan's years of international amateur experience. He should be fighting main events.